Diabetes Management Specialist in Wendell, NC
Diabetes is a chronic disease that affects how your body uses glucose and causes elevated blood glucose levels. Increased frequency of urination, impaired vision, and weariness are some of the symptoms. Treatment is essential since uncontrolled diabetes can cause major health issues. Diabetes management involves monitoring blood sugar levels, following a healthy eating plan, getting regular physical activity, taking medication as prescribed, reducing stress, and attending regular medical checkups. At Wendell Family Medicine, we offer diabetes management under the supervision of specialists. For more information, contact us or schedule an appointment online. We are conveniently located at 2600 NC-97 Wendell, NC 27591.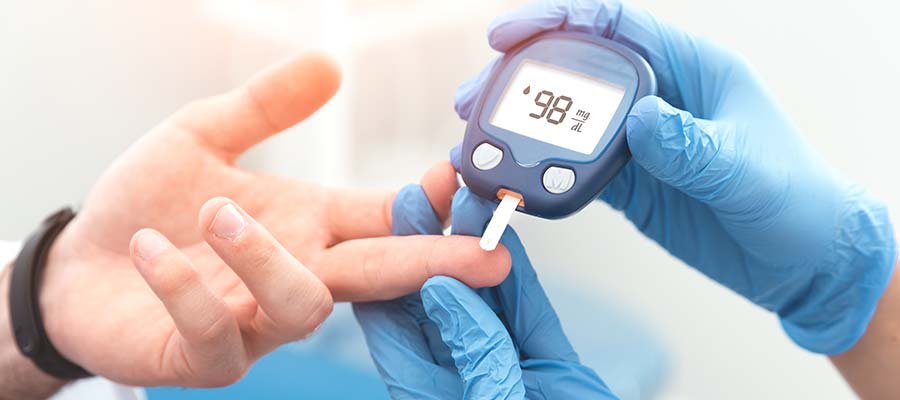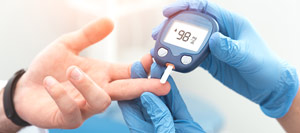 Table of Contents:
What is diabetes?
What types of diabetes are there?
What are the symptoms of diabetes?
Can family medicine help with diabetes?
There are many common chronic diseases that affect millions of Americans; these often come with dangerous health risks if not properly managed. One of the most prevalent chronic conditions faced by the American population is diabetes, which is characterized by an inability to properly regulate blood sugar levels. Because there are several health complications that can arise from diabetes, the condition must be closely monitored by a diabetes specialist in order to attain and maintain good health.
What is diabetes?


When we consume food, our bodies break down the nutrients into sugar to be used by the body for energy. The resulting sugar is transported via the blood so it can provide energy for the entire body, from head to toe. Blood sugar levels are not consistent; they are constantly fluctuating throughout the day based on when we eat, when we are hungry, and when we require higher levels of energy. In some cases, blood sugar levels can be too high or low, which can cause complications with the internal organs. One condition in which this occurs is diabetes, which is characterized by higher-than-normal blood sugar levels. In a healthy individual, their body will produce adequate amounts of insulin, which helps move the sugar from the blood into the cells. However, people with diabetes either do not produce enough insulin (type 1) or do not respond to it (type 2), resulting in elevated blood sugar levels.

What types of diabetes are there?


There are two main types of diabetes:

Type 1 — Type 1 diabetes is characterized by a lack of insulin production, leading to elevated blood sugar levels. This can result in dangerous complications involving the circulatory system, and can often lead to the development of other chronic conditions. People with type 1 diabetes must take insulin every day (typically via an injection) in order to manage the condition.

Type 2 — Type 2 diabetes also involves problems with insulin, but instead of not producing enough insulin, the body does not properly respond to it. This is often called insulin resistance and must be carefully monitored in order to avoid negative health risks.

What are the symptoms of diabetes?


The symptoms of diabetes differ based on the type but share many of the same warning signs, such as:

• Hunger and fatigue — One of the main symptoms of diabetes is a constant feeling of fatigue and persistent hunger. Because people with diabetes do not produce enough insulin, or their bodies cannot use it properly, the cells in the body are not getting the energy they need.

• Frequent urination and thirst — When blood sugar levels are too high, the kidneys may not be able to absorb all of the glucose, resulting in more fluids excreted from the body and a frequent urge to urinate. Urinating more frequently lowers hydration levels, resulting in thirst.

• Dry mouth and itchy skin — When the body is using fluids to produce urine, less moisture can be allocated throughout the body, often leading to dehydration, dry mouth, and itchy skin.

• Blurred vision — When fluid levels in the body change, it could make the lenses in the eyes swell up; this resulting change in shape can make it hard to focus and see clearly.
Can family medicine help with diabetes?


Yes, family medicine can help with diabetes. Family medicine takes into consideration the unique factors that affect the health of each individual. This individualized approach provides much more promising results, as a one-size-fits-all initiative often misses out on important details that play a role in an individual's health condition. In that regard, what a family medicine doctor can do for an individual is impossible to convey to the general population. Each patient is seen as unique; family medicine doctors understand the various factors that contribute to health and well-being and actively work to meet these needs. This makes family medicine doctors better suited to care for patients that have not seen results from traditional approaches.
 
If you are looking for a diabetes specialist, then Wendell Family Medicine is the right place for you. Contact us for the care you need. For more information, contact us or schedule an appointment online. We serve patients from Wendell NC, Archer Lodge NC, Hocutts Crossroads NC, Zebulon NC, Eagle Rock NC, Shotwell NC, Middlesex NC, and BEYOND.